Participating Companies
Form for participation in the consortium
Regulations: Apply for participation on the premise that regulations (such as confidentiality) are complied with.
Joint research contract: Each company will conclude a joint research contract (project type) with Yamagata University.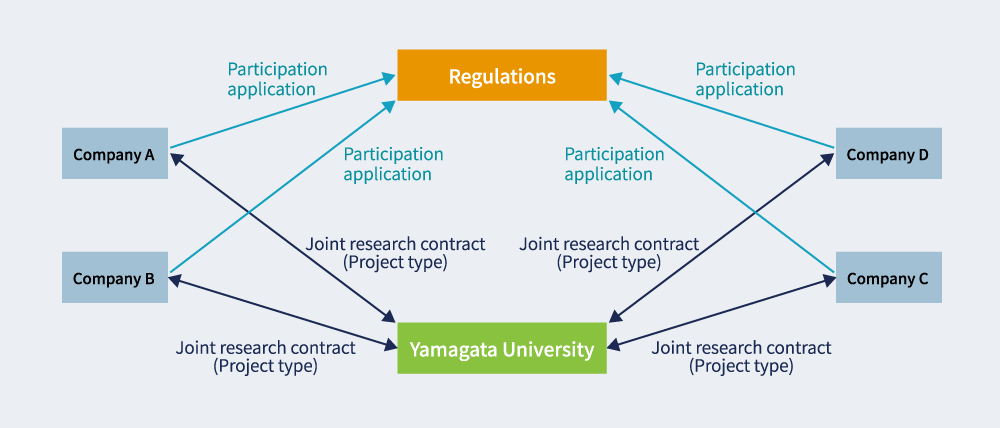 Participating companies
Kao Corporation
CASIO COMPUTER Corporation
KYOCERA Corporation
KYOCERA Document Solutions Japan Inc.
KONICA MINOLTA, INC.
Think Laboratory Co.,Ltd.
Seiko Instruments Inc.
SEIKO EPSON CORPORATION
DIC Corporation
Tokyo Electron Ltd.
Futaba Corporation
MIMAKI ENGINEERING CO., LTD.
Merck Performance Materials G.K.
RISO KAGAKU CORPORATION
Mikuni-Color Ltd.
Gifu Shellac Manufacturing Co., Ltd.
Otsuka Chemical Co.,Ltd.
Sanyo Color Works, LTD.
Dainichiseika Color & Chemicals Mfg.Co.,Ltd.
General Co., Ltd.
ALTECH CO., LTD.

Ricoh Co., Ltd. 
Support members
SANYO TRADING CO., LTD.
Seika Digital Image CORPORATION
Nihon Rufuto Co., Ltd.
PHOTRON LIMITED